This Nightmare Just Gets Worse
My readers know I have great interest in stimulating, facilitating and participating in preparedness efforts on the west coast of North America for a Cascadia Subduction Zone event. I'm not in any hurry for the fault line to rupture but regardless of what I want or think, it will happen one of these days. When it does, I know what it will look like in coastal communities
I thought I knew what the aftermath ugly would look like, but as I've been researching for a presentation on ground truth of a Cascadia, ugly is going to a whole new level. Part of a presentation I'm preparing to give this summer involves a comparison of two cities. Minamisanriku, Japan and Seaside, Oregon.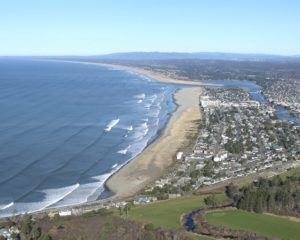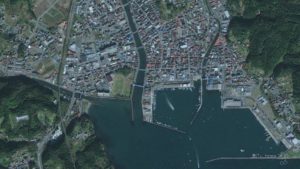 Minamisanriku for better or worse has more experience with tsunamis than Seaside. Prior to the 2011 event they had two local tsunamis, one in 1896 and one in 1933. Neither of those were greater than 3.5 meters in height. In 1960 a subduction zone earthquake off of Chile sent a 5 meter tsunami through the community, destroying it and leaving dead in it's wake.

As a result of the 1960 tsunami, river-gates were installed which could be remotely closed in the event of a tsunami. Water will always take the easiest route and will flow up rivers, channels and bays. The gates function to let the river flow out normally but could be closed to prevent massive flooding. Another Chile earthquake in 2010 sent another tsunami towards Minamisanriku. This time the river gates were closed, people evacuated to high ground and although there was damage to the community, there were no fatalities.
Thirty minutes after the earthquake in 2011, the tsunami arrived and Minamisanriku was for all practical purposes destroyed. Initially half of the 17,000 residents were missing or dead.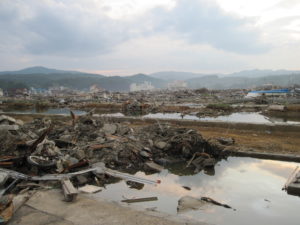 Their two evacuation centers sitting at 20 meter elevation were inundated and people washed away. Almost half of the 80 designated evacuation sites were inundated by the tsunami. A hospital several kilometers inland, and anticipated to be safe, saw water coming into the facility. Staff stayed and desperately tried to carry patients on their backs to the third floor. It wasn't high enough. Only 30 of 110 patients survived.
I went looking for answers on how such a seemingly experienced and well prepared community could be so devastated. It turns out I violated my own advice I have given to others over the years. Never ask a question that you don't really want to know the answer to. It turns out the 2011 tsunami baffled the world's experts as it was far bigger than might have been anticipated. What scientists found was the squeezing together of two plates in the earth's crust not only resulted in a fracture but also caused a massive collapse of the debris that had built up on the sea bed as tectonic movements scraped loose sediment into an unstable wedge.
When the wedge of material collapsed, the leading edge split off and shot forward. In essence, what happened was a release of both the elastic energy stored in the rocks and the gravitational energy contained in the wedge-shaped build-up of debris. The extra movement of the sea bed at the toe of the wedge enhanced the shape of the huge wave created at the surface of the sea, which traveled towards Minamisanriku, about 70 kilometers away.
Here's where my Cascadia nightmare gets worse. Our current tsunami inundation zone maps for the west coast are based on the best scientific estimates. But what if. What if a similar condition of built up debris is associated with the fault movement. I even have to wonder if dredge spoils dumped off the coast might not come into play as well. I understand for planning purposes you have to draw a line somewhere. What I'm suggesting is that local planners and facility emergency management personnel may be wise to hedge their bets. Don't count on our current estimates as being fact. Keep in mind Minamisanriku had taken numerous more steps as ensuring the safety of their community then we here in the United States have even discussed.
I hope I'm wrong about this. On the other hand if I were responsible for the safety of others along the west coast, I'd be bringing my planning team back to the table. I'd love to hear your thoughts on this topic. Would you try and be even more conservative, just in case.