OK, You Gotta Get These Emergency Candles
Kevin Dawson a semi-retired fire-fighter got a hold of me through LinkedIn asking if I would take a look at his product. I am very picky when it comes to product reviews but his intrigued me and he sent me a couple packages to do my own trial.
The concept is to offer people a simple and safer alternative to emergency lighting than the traditional candles we've all used when the power has gone out. I for one always enjoyed the adventure of getting out the candles, lighting them and basking in the flickering warm glow. Of course candles tend to burn at varying speeds and can make a mess if you bump or tip them. There is also a danger.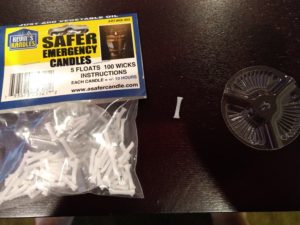 According to the National Fire Protection Association, between the years 2009-2013, U.S. Fire Departments responded to 9,300 home structure fires that were started by candles. These resulted in 86 deaths, 827 injuries and $374 million in direct property damage. The cause is usually some type of combustible material left to close to the candle flame as people go to sleep. Kevin's Kandles still have an open flame so you can't leave them near combustible materials that could come in direct contact with the flame. His candles do have the benefit of not getting hot at the base as they burn down or if they tip over since water forms the base layer. In fact when I went to sleep with his candle burning (careful not to have anything combustible near it). I actually woke up when I heard the water hit the wick and put it out. I wasn't planning on doing a "sleep test", but the darn thing kept burning a lot longer than I thought it could based on the fuel source I had used.
To use this emergency lighting source you'll need:
Kevin's Kandle package which has the wicks (100) and floats (5)
Vegetable oil (something most of us have around the kitchen)
Matches
Water
Glass container
I used a small glass dish, added maybe a quarter cup of water, then two tablespoons of vegetable oil which spread out on top of the water. You assemble the float and wick (which I tried to make much harder than it is designed), set it on the surface of the liquid and let the oil channel down to the wick. In 30 seconds you light the wick and…let there be light!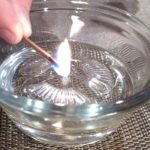 As you can see it puts out light similar to a candle, no wax melting and as long as you keep the wick below the lip of the container, not much effected by wind currents. I had a fan blowing in the bedroom so it picked up enough breeze for the nice flickering light vibe.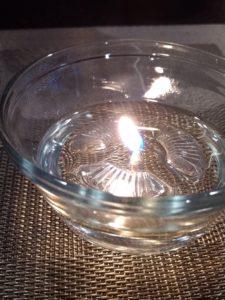 I figured this two tablespoons of fuel would be consumed in a couple of hours. Nope. I lit it about 7 pm and it was 3 am when the water channeled down to the wick and put it out.  At that burn rate, my 32 ounces of vegetable oil would last a lifetime.  I was very impressed with the simplicity, ease of storage and performance of the product. For the cost I think it's a great emergency item to toss in your go bag and keep for those times when the power goes out.