In an emergency or disaster, how important is your phone?
With the current smart devices most of us carry there is rarely a task we can't do on our phone that used to be reserved for our laptops. Agreed, I would rather write on my computer, but for essential tasks in times of power outages such as staying connected and informed, hard to beat your phone.
What if I told you there is an emergency power source that can keep your phone charged, but also charge any USB powered device, and provide emergency lighting? In fact the HANS PowerPack 300 device that I tested (provided by the vendor) is designed to let you charge your phone, and give 5 hours of emergency lighting a day, for a month. I don't know about you but I have never had my power go out for more than a week (these devices would have been perfect in Puerto Rico for the past 2-3 months), so the capacity is really amazing.
While I found the solar charging feature the most attractive, I also wasn't thinking that it's winter…in Chicago…how much sun am I going to see? When I first saw this unit at a conference I immediately thought of Nicaragua where I have family, power is off and on and they have plenty of sun.  Chicago is not Nicaragua when it comes to sunlight. Turns out in my testing I would use it for light for about 5 hours a day in the evening.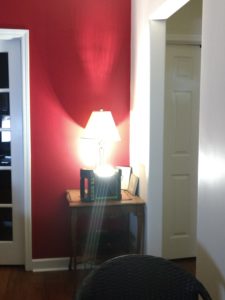 The device comes with a spot light that has two settings and three area lights that you can use one or all three depending on need. In the photo to the left I was only using two and it was much brighter than the lamp I normally use in the evening.
t would take me about a ratio of four-five hours in direct sunlight charging to make up for every hour I used the device. Charging my phone didn't seem to make much of a dent in the device's charge. I also had fan and lantern (provided by the vendor) to help me test out the practicality. The lantern had a cigarette lighter charging cord. The HANS 300 has a charging port if you need it, or you can plug in an adapter which gives you two more USB charging ports.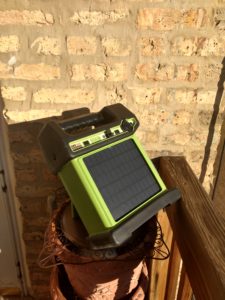 On my deck I could only capture about four hours of direct sunlight before the sun moved behind obstructions so I was slowly losing out on keeping it charged up. If this had been a desperate situation I could have taken the device up on the roof of the building and probably doubled by sunlight every day. Keep in mind the device does not have to be outside to charge. Any window where you get direct sunlight will let you charge it indoors (I have no such windows in winter).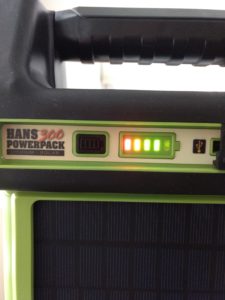 It's easy to tell the device is charging as the battery level indicator blinks if you have it adjusted right (comes with a built in stand) in relation to the angle of the sun. The device is built extremely tough and covered in a marine grade rubber so it didn't feel like I device you have to treat tenderly.
Let's recap. The device can be charged up using a wall charger if the power is on (7-8 hours).  Using just the built in solar panel it takes about 66 hours. Using an optional solar briefcase array it takes 7-10 hours and using their electric bike option (2-4 hours). Once it's charged it can be stored and hold that charge due to its lithium batteries.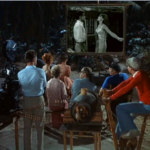 I think the bike concept is awesome as it reminds me of Gilligan's Island and let's you get a little work out. (I'm thinking my gym should be harnessing all the cycling machines to harness power after knowing the HANS (HANSpowernet.com) folks have it figured out.)
Seriously, I think the device is perfect to have around your home, business and in disaster supply caches. Perfect for your CERT, City, County or State disaster supplies where power outages are likely to occur. Catalog over the next few days how many devices you have that are USB driven, e.g. lights, fans, tablets, phones, gloves (yeah hand warmer gloves).  Now decide how long your phone will hold a charge if the power goes out. I think the HANS PowerPack is a great emergency solution but it would also work well camping, tailgating or live-streaming events where you need a long lasting power source.